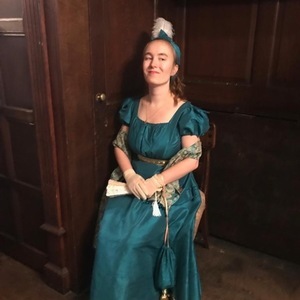 Melissa Duijvestijn
Special guest
I am a Dutch autistic and visually impaired musical fanatic and bookworm performing in an amateur musical company and currently recording several musicals on the karaoke app Smule. I am recording as the female lead "I" in the Rebecca the musical recording group #Manderleyagain and understudy Christine in the phantom recording group #Quarentineoftheopera and Meg in #Musicofquarentine. I am currently doing musical related roleplays on Discord as well. "I" in a phantom/Rebecca/heathers/Alice by heart crossover roleplay and Erika (a femme phantom) in a phantom roleplay for example. My introduction to Phantom was the 2004 movie. But I have seen several better phantom films since. Phantom was also my first West End musical. This story is so relatable to me on several levels. As a disabled woman and a performer.
Melissa Duijvestijn has been a guest on 1 episode.
Episode | August 29th, 2020 | 1 hr 54 mins

alw, disability, performing, phandom, phanship, roleplay, singing

My interview with Dutch Phan Melissa Duijvestijn all about Phanship, role-plays and online POTO karaoke!